Sep/12/2013 - 02:11:51 pm
How To Reconnect With Your College Classmates On Social Media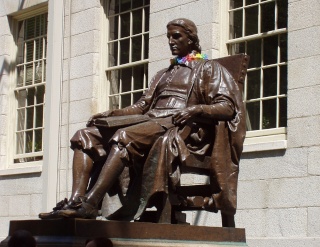 The internet, at its most basic function, is a tool for finding information. It's an incredible understatement to say that if people are curious about any subject – whether it be the finer details about the mysterious "God Particle," how to install tiles in your bathroom without a handyman, or the ability to keep in touch with relatives on the other side of the globe – the internet is usually the place they'll go to start.  The internet goes hand in hand with social media.  With social media, we can do anything from post pictures of a growing niece or nephew, let people know what we're doing for a project we're working on at that exact moment, play games in cyberspace, and more.  Studies show that a whopping 80% of college students and faculty utilize social media.  That being the case, it's a near certainty that if you wanted to keep in touch with your college classmates in the future, you'll have absolutely no problem doing so.  Organizations like the Harvard Business School Alumni Association are geared toward making sure you keep the connections you've made during your higher education.  They also make it possible to reconnect with past college classmates, even if you attended college decades ago.  If for some odd reason you haven't already tried, here's an easy-to-follow guide on how to reconnect with your college friends and classmates.


Step 1: Join a social media site        
There is the common notion that the high school reunion will soon become a thing of the past.  They are practically useless today because of how easy it is to keep in touch with old classmates via one of the social media giants.  Nearly every human being in a civilized country has a social media presence of some sort, either for pleasure or business.  Therefore, it stands to reason that if you join a social media site, you'll gain access to information about your old friends.  Some turbulent countries have initiated revolutions through Facebook, so finding a long lost roommate should be a snap.  Since you're probably already a Facebook user, or at least have a friend or relative that is, try to register for an organization with more specific membership.  The Harvard Business School Alumni Association not only gives you access to information about classmates from Harvard, but also allows you to filter your search to classmates from the vaunted business school.  Similar organizations exist to help people seek out lost connections for both nostalgic and business purposes.


Step 2: Just plain search
A simple Google search for a name might be too general for your purposes, but it never hurts to give it a try.  There are websites designed specifically for finding classmates and lost connections, however, that allow for a more narrowed search.  You can filter your search by specific details (high school attended, cities lived in, common friends).  Your friend might not be a member of the Harvard Business School alumni, but he might have had an old flame that is.  Reach out to that person if they're easier to find and you'll be on the right track.
Step 3: Connection   
Most social media websites are free but they provide only enough information to whet your interest and give you possibilities.  If you've narrowed down your options to a reasonable amount, it might be a good idea to invest a small fee into finally getting your classmate's information and making contact.